Medically Supervised Weight Loss Programs Serving Miami, Coral Gables FL and Pinecrest, FL
Vive Ageless Weight Loss Centers offers a variety of weight loss programs that are supervised by our team of obesity control specialists. Weight loss programs have lots of benefits such as they help in controlling blood pressure, diabetes, and clearly improves every aspect of your life. Visit Vive Ageless Weight Loss center and consult with our trainer Rafael Olartecoechea. He has 20 years of experience and specializes in cycling, TRX, corrective exercise, animal flow, kettlebell, and nutrition.

Contact us

today or book an

appointment online

. We have convenient locations in 

Coral Gables FL

, and 

Pinecrest FL

.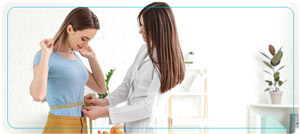 Table of Contents:
What is a medically supervised weight loss program?
What is a supervised diet?
What does medical weight loss consist of?
Why is medically supervised weight loss more effective?
What can I expect from a medically supervised weight loss program?
What is a medically supervised weight loss program?

There seems to be so many weight loss options out there, all clamoring for attention, that it's sometimes difficult to know where to turn.  We all know what weight loss is, that part's not hard.  What is hard is knowing how to go about it. Some people can establish new healthy habits and routines without too much effort, but for those who find it harder a medically supervised weight loss program may be the answer. These programs differ from commercial diets by being developed and supervised by physicians and offering in-person follow-ups to monitor progress. Diet and exercise regimes are tailor-made to the individual patient's specific requirements and take into account their general health, medical history, and weight loss goals.
What is a supervised diet?

A medically supervised diet is one developed by a doctor or health professional to help patients to lose weight and improve their health and wellbeing. The patient and doctor will meet regularly to monitor the patient's progress and to learn and implement new healthy eating habits. A supervised diet stands apart from other diet programs due to the accountability it affords the patient and the professional guidance and monitoring that is offered by the overseeing physician. In addition, it gives the patient access to expert knowledge from other medical professionals such as nutrition specialists that can answer any questions they may have.
What does medical weight loss consist of?

A medical weight loss plan will typically consist of:

• The initial consultation – for the doctor to obtain information about the patient's health, concerns, and goals of treatment.
• Diet plan – a nutritionally balanced meal plan created by the doctor and tailored to the specific needs of the patient.
• Behavior – modifications like dietary changes and exercise that are best suited to the patient to ensure their hard work pays off.
• Medications – can sometimes be used for people who haven't seen appreciable results from diet and exercise alone.
Why is medically supervised weight loss more effective?

Medically supervised weight loss is a more effective way of losing weight, largely because you're not on your own. Having to be accountable to someone can help keep you on the right path, and the professional support and guidance that the doctor provides can help to maintain your morale and motivation. In addition, a personalized diet and exercise regime is more efficient, making it easier to adhere to than an "off the shelf" version that might be unsuitable or ineffective; this also makes the individual plan more successful because it makes it easier to maintain once the target weight has been reached, thus making it more sustainable over the long-term.
What can I expect from a medically supervised weight loss program?

monitor your progress and keep you motivated.  The individualized program will include diet and exercise plans tailored to your specific needs, along with weight loss medications and special meal plans if deemed appropriate.  It will provide you with the tools to not only reach your target weight but to maintain it, together with a healthy lifestyle, over the coming years. If you would like to know more about medically supervised weight loss programs, contact Vive Ageless Weight Loss Center today! Call us or request an appointment online. We are conveniently located at 166 Madeira Ave Coral Gables, FL 33134 and serve clients from Coral Gables FL, Miami FL, Pinecrest FL, South Miami FL, Coconut Grove FL, Brickell FL, Kendall FL, Richmond Heights FL, and Westchester FL.